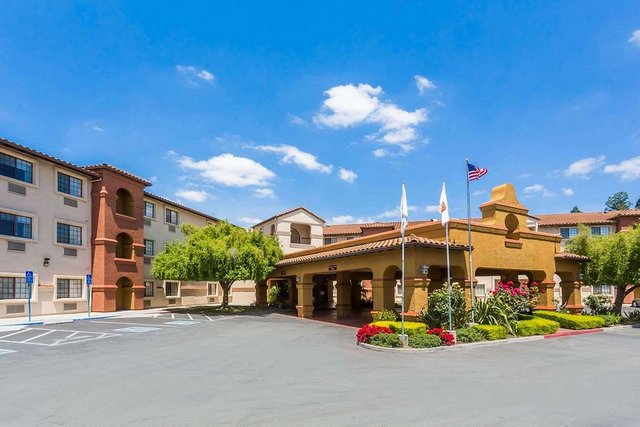 Friendly California SPOKEN ENGLISH - Silicon Valley 2021 NEW
MP4 | Video: h264, 1280x720 | Audio: AAC, 44.1 KHz, 2 Ch
Genre: eLearning |
Language
: English + srt | Duration: 74 lectures (2h 34m) | Size: 2.14 GB
Practice spoken English with a native speaker in California = REAL use + REAL places in Silicon Valley (covid-time)
What you'll learn:
You will practice SPOKEN ENGLISH with a native speaker in California.
You will experience many ways English is used in REAL PLACES around Silicon Valley.
You will learn VOCABULARY words in a LOCAL NATIVE context.
You will learn popular IDIOMS used in California with sentence examples.
You will practice Listening, Speaking, Reading, Vocabulary, Writing, Spelling and Comprehension/Understanding.
You will learn everyday words with over 270 SYNONYMS - so you can choose from a VARIETY of words with SIMILAR meanings when you speak or write.
You will gain more CONFIDENCE in your English skills!
Requirements
INTERMEDIATE level of English.
A desire to improve your English skills through REGULAR PRACTICE.
Description
Welcome to Friendly California SPOKEN ENGLISH - Silicon Valley 2021!
8 Big Ways THIS NEW CLASS IS DIFFERENT - a fresh approach to learning:
1. California English - Western American English.
California English is an exciting
language
collection of: native speakers, many different cultures (including millions who have settled in California from around the world), American pop culture, and local idioms.
Silicon Valley is California's famous "innovation hub" with a unique blend of world class universities and technology companies attracting people from all over the globe.
2. Silicon Valley is your virtual classroom - You will learn authentic
language
used in a local native context.
My unique "Words in the Wild" teaching method uses REAL words on REAL signs in REAL places (rather than words from inside a book or school classroom).
For these first 69 lessons, I am sharing REAL SIGNS here in the Silicon Valley cities of Palo Alto, Mountain View, Cupertino, Sunnyvale, Santa Clara and San Jose - during the covid pandemic.
You will experience English through local immersion and cultural visuals (rather than book content that is not based on "real world" examples). This level of immersion is not normally available in a
language
course and is a rare peek inside a native speaker's daily use of
language
.
As you will see in the videos, face masks were strictly required in California during the creation of this new course.
California is slowly reopening after over a year of shutdown due to covid-19 so you will also see how our local
language
and city signs change over time.
With many travel borders still restricted, this course is a great way to learn, practice and experience Friendly California Spoken English from anywhere in the world!
3. "MicroLearning" format - This proven learning method of shorter videos helps to avoid information overload.
Did you know shorter daily lessons can be more effective than very long classes for learning and memory?
A daily study plan of 2-3 minute video lessons followed by 3-5 minute quizzes are perfect whenever you have a few extra minutes to practice your English skills (including when waiting in line at the store).
Studies show that one secret to learning a new
language
is regular and daily exposure to native speech in use - so you are sure to see a benefit from these short "snackable" lessons if you watch and practice a little every day.
4. Practice 7
language
skills in EVERY lesson + quiz combination - Each video is packed with complete skill-building.
These short video lessons are designed to be watched in numbered order (in sequence).
Practiced skills in each set of [video+quiz] includes listening, speaking, reading, writing, spelling, vocabulary, and popular idioms with sentence examples (grammar).
Studies show that understanding and memory increase greatly when more than one skill or sense is used!
This class includes 276 everyday words explained in a local context + 69 popular idioms used in California - with more content to be added regularly.
You will learn over 250 "synonyms" (different words with similar meanings) - so you don't always have to use the same words when you speak or write.
5. Memory boosters - Quiz after each video helps strengthen memory.
A short skills quiz after every lesson will help you remember and practice what you just learned in the video.
This system is called "active recall" which is a powerful study technique and an effective memory tool.
These short quizzes will help boost your short-term memory and strengthen your long-term memory.
PDF downloads of all vocabulary words and idioms are also available as study guides.
6. Native speaker - I have a clear and easy-to-understand speaking style.
As your friendly & fluent local guide, I can help "train your ear" to understand fast fluent speech and native pronunciation.
Learn and practice with confidence.
7. Fresh & fun
Lessons in this course are always different and interesting.
Videos are paced for you to stay engaged - not too long and not too slow.
The casual and relaxed learning experience will help you gain confidence in your
language
skills with no wasted time.
Through this special course, Silicon Valley is at your fingertips with no travel required.
8. This course will grow! - For one low enrollment price.
New lessons from many exciting places will be added over time, including
language
learning "BONUS Field Trips" to popular spots in the San Francisco Bay Area like Berkeley, Monterey, Napa, San Francisco and the Stanford University campus.
Students will be notified whenever new lessons are added to the course.
See how our local
language
changes before and after the covid pandemic - as California starts to reopen to the world.
Who this course is for
This course is perfect for English learners who answer YES to the following questions =
Do you want to improve your spoken English + listening skills with a fresh approach to learning?
Are you tired of textbook examples - and want to experience local cultural visuals of English "in use" in Silicon Valley?
Do you enjoy interesting, engaging and authentic content based on "real life"
language
?
Would you like to practice spoken English with a native speaker in California?
Are you looking for an English teacher with a clear speaking style that's easy to understand?
Do you want to learn different words with similar meanings so you don't always use the same words when you speak or write?