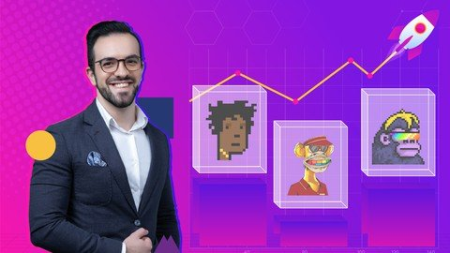 Genre: eLearning | MP4 | Video: h264, 1280x720 | Audio: AAC, 48.0 KHz
Language
: English | Size: 5.00 GB | Duration: 5h 9mA Fun Step-By-Step Guide to Successful NFT Investing that You Don't Want To Miss!
What you'll learn
NFT Portfolio Contruction
Identifying NFT Projects With Pontential
Avoiding NFT Scams
NFT Investing
NFT portfolio, money management and risk management
NFT ownership rights, copyright and legality
NFT Evaluation tools
Dominate Metamask Wallet
Minting generative art NFTs
NFT Marketplaces
NFT Staking
NFT and Cybersecurity
Description
**This course has Professional Captions **
As you all know, NFTs absolutely boomed the entire crypto industry for quite a while now. With such a fast-growing and evolving pace, don't you feel a bit overwhelmed and hard to keep up? Don't worry, I've got you covered!
I've decided to create this 2nd NFT course after the huge success of my other best-selling course "The Complete NFT Course - Learn Everything About NFTs". In this brand new masterclass, I will be focusing on NFT investing, with absolutely no fluff but only the essentials on learning how to invest in NFTs like an expert!
This fun masterclass includes all you need to know to get involved in the extremely fast-moving NFT world and how to successfully invest in the NFT market. It's a course designed for Complete Beginners and Intermediate market participants.
Not only will you learn how to identify NFT projects with potential and how to make informed investment decisions, you'll also learn about different tools that will help you in your NFT journey, different techniques to manage your NFT portfolio, learn how to avoid NFT scams, how to keep your crypto assets safe and much, much more!
In this 5-hours Masterclass, you will learn everything about:
The web3 -
Internet
of Assets on the Blockchain
What is an NFT
Why are NFTs valuable
Blockchain Protocols
Types of NFTs
Investing in NFTs
NFT Portfolio, Money Management and Risk Management
NFT Ownership Rights and Copyright
NFT Provenance
NFT Fractional Ownership
NFT Evaluation Tools - how to Find Early-Stage Projects
NFT Community Tools
NFT Whale Watching
Metamask - how to Install and Use
Funding your Metamask
Techniques to Pay Less Gas Fees
Connecting Metamask to a Hardware Wallet
Flagship Collections
How to Identify Collections with Potential
Minting Generative Art NFTs
Getting In Early
NFT Rarity
How and When to Sell your NFTs
Top NFT Marketplaces
Exploring OpenSea
NFT Farming and Staking
NFTs in DeFi
Avoid NFT Scams
Avoid Rug Pulls
Keeping your NFTs Secure
NFTs and Cybersecurity
Metaverse
The Future of GameFi
Bonus Lectures
NFT Lingo and Slang
You will also find quizzes and assignments along the way that will help you to consolidate the knowledge, all in a fun and engaging manner. Can't wait to see you inside!
Who this course is for:
Blockchain enthusiasts
NFT Investors
NFT collectors