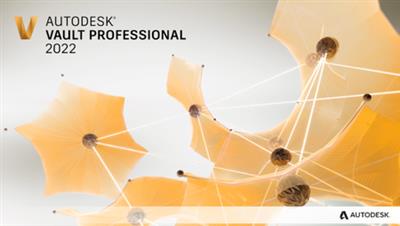 Autodesk Vault Server/Client Server 2022.2 Update Only (x64) | 337.3/299 Mb
The Autodesk Vault server is the database server that works in conjunction with Autodesk Vault clients. The server keeps all design and documentation files in a common, secure, and centralized location and manages access to that data. It provides users with access to their files and maintains information about the status of those files and which users have permission to change and update the files. When changes are made to files, a complete version history of all changes is maintained, providing a convenient mechanism for accessing the latest versions as well as previous versions.
A Vault client is any stand-alone application or integrated add-in that connects to the vault server to access files and perform vault operations.
Note: Vault clients that integrate with an Autodesk design application require a licensed installation of the corresponding Autodesk application. Refer to the hardware and software requirements for each product.
The clients work with the Autodesk Data Management Server. The Autodesk Data Manageme
System Requirements:
OS:Windows Server 2016* Standard, Datacenter / Windows Server 2019* Standard, Datacenter / Microsoft Windows 10* Professional, Enterprise (Vault Basic only)
Database Servers
-Microsoft SQL Server 2016 Express, Standard, Enterprise (CU15 for 2016 SP2)
-Microsoft SQL Server 2017 Express, Standard, Enterprise (CU22)
-Microsoft SQL Server 2019 Express, Standard, Enterprise (CU8)
CPU:
Intel® i7 or AMD® equivalent Processor, 2 GHz or higher (Minimum)
Intel Xeon® E7 or AMD equivalent Processor, 3 GHz or higher (Recommended)
Memory:
8 GB RAM (Minimum)
16 GB RAM (Recommended)
Space:
-100 GB disk space (Minimum)
-200 GB disk space (Recommended)
Home Page -
https://www.autodesk.com/

Buy Premium From My Links To Get Resumable Support,Max Speed & Support Me