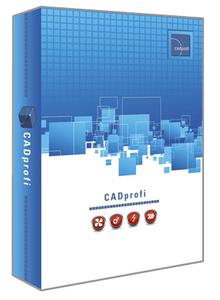 CADprofi 2022.01 Build 211109 (x64) Multilingual | 1003.3 Mb
CADprofi HVAC & Piping is a parametric CAD application for the design of building technical equipment. All types of technical installations are supported: heating, ventilation, air conditioning, piping and ducts.
CADprofi Mechanical contains a wide range of standardized parts, steel bars, steel profiles and other components that comply with DIN, EN, ISO and national standards. The library includes bolts, screws, washers, nuts, joints, rivets, studs, angles, and parts used in the construction of heat exchangers and other devices. An excellent editor of diagrams and projects greatly facilitates the creation of drawings of hydraulic and pneumatic systems.
CADprofi Architectural can be used to create building plans, cross sections and a facade view. Convenient application features facilitate the design of multi-layer walls, architectural sizing, and the rapid creation of structural descriptions. The module includes a complete library of windows, doors, furniture, and other furnishings. As an additional feature, the application can be used to design evacuation and fire fighting plans.
CADprofi Electrical can be used for the design of complex objects such as electricity, lighting, low-voltage systems, telecommunications, security systems and antenna installations. The application contains several thousand electrical elements and symbols (lamps, switchgears, and much more). The application provides an easy way to design wiring and cable channels. Among the most useful features are automatic numbering (addressing) of electrical circuits, and convenient design and editing of the wiring diagram.
CADprofi features:
Program optimization and acceleration
CADprofi - object placement (command extension)
CADprofi - integrated calculations for the central heating and water installations (KaMo)
CADprofi Architectural - changes in wall drawing
CADprofi Architectural - L and U shape stairs
CADprofi Electrical - changes in busbar and cable trays systems
CADprofi Electrical - fire alarm control panels
CADprofi Electrical - extension of modular apparatus library
CADprofi Mechanical - easy filtering of libraries
CADprofi Mechanical - library extension including Indian Standards
CADprofi HVAC & Piping -Purmo and KORADO radiators
CADprofi HVAC & Piping - HAWLE fittings and Piping system
CADprofi HVAC & Piping - pipe saddles
CADprofi HVAC & Piping - extension of the outlets command
New Dahua library
New Relpol library
New Siemens library
New Schrack Technik library
New NOARK Electric library
ABB library extension - low voltage AC drives
Update of Hager library
KaMo - product update and a new boiler room schematic generator
Update of manufacturers' libraries: Vaillant, Reflex, Wilo, Viessmann, EATON, Lovato, ABB, F&F, hager, Schneider, Lamel, BKT.
CADprofi 2021 has been adjusted to work with latest CAD programs, including: 4MCAD 21, ActCAD 2020, 2021(x64), AutoCAD 2021, ArCADia 12, Ares Commander 2020, BricsCAD 2021, CMS IntelliCAD 9.2 (x64), GstarCAD 2021, INTERsoft IntelliCAD 2020, progeCAD 2021, ZWCAD 2021. CADprofi 2021 currently works with many base CAD programs including: AutoCAD (since the 2000 version), BricsCAD, GstarCAD, IntelliCAD, progeCAD, ZWCAD, ARES Commander Edition and others.
System Requirements:
AutoCAD 2004 - 2022
AutoCAD Architecture 2004 - 2022
AutoCAD Mechanical 2004 - 2022
BricsCAD V12 - V21 Professional / Platinum / Ultimate
BricsCAD V16 - V21 BIM / Mechanical
GstarCAD 2010 - 2022 (Std/Pro)*
progeCAD 2013 - 2021
ZWCAD 2009 - 2012, ZWCAD Classic
ZWCAD+ Professional**
ZWCAD 2017 - 2022 Professional**
4M CAD V16, V19, V21
ActCAD 2020 - 2021 (64bit)
ArCADia 7.2 (32/64bit), 10 (32/64bit), 11 (32/64bit), 12/14 (64bit)
ARES Standard Edition 2019
ARES Commander 2012 - 2022
AutoCAD LT 2004 - 2019 ***)
AviCAD 2014 - 2017, 2019, 2021
BricsCAD V8 - V21 Classic/Lite*
CADdirect 2022
CADian 2012 - 2017, 2020-2021
CADMATE 2015 - 2016, 2018, 2020
CADopia 19, 21
CMS IntelliCAD 7.2, 8.1, 8.2 x64, 8.3, 8.4, 9.0, 9.1, 9.2 (64bit)
IBSCAD 2018 - 2021
IntelliCAD 5, 6, 7.2, 8.1
IntelliPlus 2013 - 2014
Intersoft IntelliCAD 2009 (32bit), 5 - 6 (32bit), 2019 (32/64bit), 2020 - 2021 (64bit)
NUVOCAD 2013
progeCAD 2008 - 2021
SilicaCAD 2021
Other programs on request
Home Page -
https://www.cadprofi.com/

Buy Premium From My Links To Get Resumable Support,Max Speed & Support Me