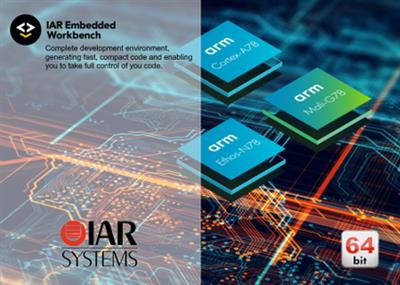 IAR Embedded Workbench for Arm version 9.20.1 | 2.4 Gb
Languages Supported: English, 日本語
The IAR Systems development team is pleased to announce the availability of IAR Embedded Workbench for Arm version 9.20.1. Easy migration from 32-bit to 64-bit architectures paves the way for future-proof embedded development with the complete development toolchain IAR Embedded Workbench.
Release notes for IAR Embedded Workbench for Arm version 9.20.1HighlightsArm Cortex-M55 support
- Support for the new Cortex-M55 core based on the ARMv8.1-M architecture with features such as MVE (the Helium M-profile Vector Extension) and Low Overhead loops.
IDE Editor updates
- Editor themes - a new way to set up the colors and fonts in the text editor
- Syntax feedback - instant syntax suggestions while typing
- Improved parameter hints
Additional GNU C language extensionsNew features
- pure and const function attributes
- GNU style statement expressions
- GNU style case ranges
- GNU style designated initializer ranges
- Binary literals with a 0b prefix
Device support
New device support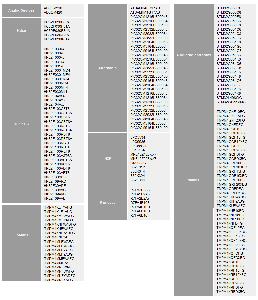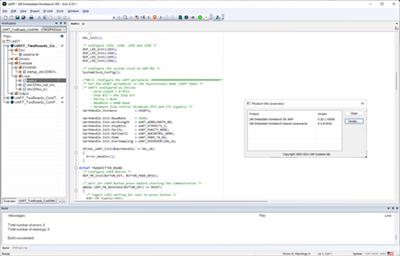 IAR Embedded Workbench for ARM
incorporates the IAR C/C++ Compiler, an assembler, a linker and the C-SPY Debugger into one completely integrated development environment. Powerful add-ons and integrations, including easy-to-use debugging and trace probes as well as integrated tools for static analysis and runtime analysis, add additional capabilities.
In this video, you get a demo of how to work with integrated code analysis in IAR Embedded Workbench for Arm. C-STAT static analysis and C-RUN runtime analysis are available as add-ons to bring code quality control to the desk of every developer.
IAR Systems
supplies future-proof software tools and services for embedded development, enabling companies worldwide to create the products of today and the innovations of tomorrow. Since 1983, IAR Systems' solutions have ensured quality, reliability and efficiency in the development of over one million embedded applications. The company is headquartered in Uppsala, Sweden and has sales and support offices all over the world.
Product:
IAR Embedded Workbench
Version:
for ARM version 9.20.1 (build 43606) with Examples *
Supported Architectures:
x64
Website Home Page :
www.iar.com
Languages Supported:
english, 日本語
System Requirements:
PC *
Size:
2.4 Gb
IAR Embedded Workbench for ARM version 9.20.1_43606
EWARM-library-src-9.20.1.318
Examples
ARM_Aiji_9.20.1_43606.zip
ARM_Altera_9.20.1_43606.zip
ARM_AmbiqMicro_9.20.1_43606.zip
ARM_AnalogDevices_9.20.1_43606.zip
ARM_Atmel_9.20.1_43606.zip
ARM_Broadcom_9.20.1_43606.zip
ARM_Cirrus_9.20.1_43606.zip
ARM_Cypress_9.20.1_43606.zip
ARM_Epson_9.20.1_43606.zip
ARM_Fujitsu_9.20.1_43606.zip
ARM_HDSC_9.20.1_43606.zip
ARM_Holtek_9.20.1_43606.zip
ARM_Infineon_9.20.1_43606.zip
ARM_Lapis_9.20.1_43606.zip
ARM_Maxim_9.20.1_43606.zip
ARM_Mediatek_9.20.1_43606.zip
ARM_Microchip_9.20.1_43606.zip
ARM_Micronas_9.20.1_43606.zip
ARM_Microsemi_9.20.1_43606.zip
ARM_MindMotion_9.20.1_43606.zip
ARM_NordicSemi_9.20.1_43606.zip
ARM_Nuvoton_9.20.1_43606.zip
ARM_NXP_9.20.1_43606.zip
ARM_ONSemiconductor_9.20.1_43606.zip
ARM_Renesas_9.20.1_43606.zip
ARM_Samsung_9.20.1_43606.zip
ARM_SiliconLaboratories_9.20.1_43606.zip
ARM_Sonix_9.20.1_43606.zip
ARM_ST_9.20.1_43606.zip
ARM_TexasInstruments_9.20.1_43606.zip
ARM_Toshiba_9.20.1_43606.zip
ARM_Xilinx_9.20.1_43606.zip
System requirements
To install and run this version of IAR Embedded Workbench you need:
- A Pentium-compatible PC with Windows 7, Windows 10 or Windows 11, 64-bit versions.
- At least 4 Gbyte of RAM, and 10 Gbytes of free disk space.
- Adobe Acrobat Reader to access the product documentation
Third-party debugger drivers, might or might not work depending on their level of support for the Windows version used.

Buy Premium From My Links To Get Resumable Support,Max Speed & Support Me