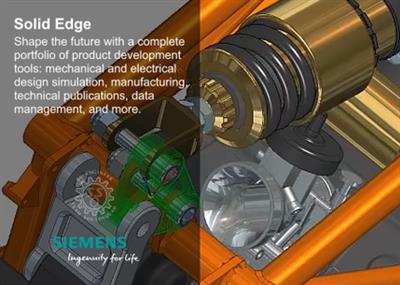 Siemens Solid Edge 2021 MP09 | 589.1 mb
Languages Supported: 中文 (Simplified), 中文 (Traditional), Čeština, English, Français, Deutsch,
Magyar, Italiano, 日本語, 한국어, Polski, Português-Brazilian, Русский, Español
The Siemens Digital Industries Software has launching maintenance pack (MP09) of Solid Edge 2021 software. Last release includes design capability enhancements such as new subdivision modeling and improved reverse engineering performance with new deviation analysis.
===General===
PR 10161103: cefsubprocess.exe cannot be turned off
PR 10172008: New SEAdmin utility (downloadable with MP7) contains an error
PR 8483120: Import of PCB results in incorrectly positioned models
===Assembly===
PR 10086902: SE crashing with various workflows
PR 10092777: Solid Edge crashes while mating a part in an assembly
PR 10104972: Crash updating drawing views
PR 10109286: Assembly cut feature fails and crashes after failure
PR 10127640: OEMgraphic window display issue - mosaic effect
PR 10151893: Frame end condition "Extend/Trim" is not working properly
PR 10161838: Surfaces hidden (but selectable) when using manual connectors
PR 8999778: Replace with new part does not support the OnFileNewUI event
PR 9836070: Hole does not cut through the bottom plate
PR 10173595: Replace a part being patterned does not replace all parts
PR 10180559: Crash when dragging group item to top node
===Draft===
PR 8481577: Placing drawing view for End Cap
PR 9595087: Section view in draft does not work in bounded plane case
PR 10122641: Unresponsive when placing balloon (Link to Parts List) or deleting a balloon
PR 10123206: Holetable origin will not be set as desired
PR 10141012: User-defined property with a comma in the name will not be listed
PR 10179574: Unable to Open or Create Draft file after MP8 uninstall
PR 10182012: Crashlog in TC context when importing a block
===Part/Profile/Sheetmetal===
PR 10091326: Conical curve in a sketch will not be shown directly when auto dim is active
PR 10121323: Changing a Variable and set back causes different geometry, regression ST10
PR 10122237: The edges of the models show a poor representation in Solid Edge 2021
PR 10181678: Blocks are unexpectedly listed in the active document of other part documents
PR 10187374: Unite command is greyed out
===Teamcenter Integration for Solid Edge===
PR 10082550: The "Transfer" command causes Solid Edge to crash
PR 10152050: How to change dataset name in SEEC Open dialog
===Solid Edge Data Management===
PR 10128973: Obsolete file opened via the search is not read-only
===Translators===
PR 10168524: No data when opening step file in SE2021 MP8
===TechPub===
PR 10136467: The problem with updating the Assembly in "Publishing" with the "Update" command
PR 10167396: Add column from Excel
PR 9965105: Published Parts List to PDF displays deactivated grid lines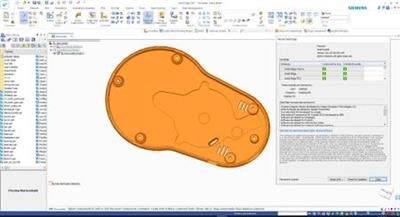 Solid Edge is a complete 3D CAD system
that uses Siemens Synchronous Technology for accelerated design, faster revisions, and better imported re-use that helps companies design smarter. When it comes to 3D design, Solid Edge is your best choice for accelerating design, getting products to market quicker, speeding ECO execution, and maximizing your re-use of imported 2D and 3D data.
Siemens Digital Industries Software announces the 2021 version of Solid Edge software,
which the company says includes design capability enhancements such as new subdivision modeling and improved reverse engineering performance with new deviation analysis. A new artificial intelligence-powered adaptive user interface to predict next steps, and a seamless integration with 3dfind.it, an intelligent 3D model search engine powered by CADENAS, can also be used to save time in the early phases of design.
Solid Edge 2021
Siemens Digital Industries (DI)
is an innovation leader in automation and digitalization. Closely collaborating with partners and customers, DI drives the digital transformation in the process and discrete industries. With its Digital Enterprise portfolio, DI provides companies of all sizes with an end-to-end set of products, solutions and services to integrate and digitalize the entire value chain. Optimized for the specific needs of each industry, DI's unique portfolio supports customers to achieve greater productivity and flexibility. DI is constantly adding innovations to its portfolio to integrate cutting-edge future technologies. Siemens Digital Industries has its global headquarters in Nuremberg, Germany, and has around 75,000 employees internationally.
Siemens PLM Software
is a world-leading provider of product lifecycle management and manufacturing operations management software. We help thousands of companies realize innovation by optimizing their processes, from planning and development through manufacturing, production and support.
Product:
Siemens Solid Edge
Version:
2021 MP09 build 221.00.09.002
Supported Architectures:
x64
Website Home Page :
https://solidedge.siemens.com/
Languages Supported:
multilanguage
System Requirements:
PC *
Software Prerequisites:
Siemens Solid Edge 2021 pre-install
Size:
589.1 mb
Operating system requirements and informationSolid Edge 2021 has been certified to run on the following:
- Windows 10 Enterprise or Professional (64-bit only) version 1809 or later
-
Internet
Explorer 11
-
Internet
Explorer is not required to be the default browser.
- Microsoft Office Professional 2016, Microsoft Office Professional 2019 or Microsoft Office 365 Business.
Note
- Windows Home not supported.
- We recommend that you not run Solid Edge on Server operating systems.
- Solid Edge stops certifying new releases against an operating system shortly after Microsoft drops mainstream support for it. Microsoft dropped mainstream support for Windows 7 in January 2015. Microsoft dropped mainstream support for Windows 8.1 in January 2018. Due to limited support from Microsoft and graphics card vendors for older operating systems, installation of Solid Edge on Windows 7 or Windows 8.1 is not recommended. Solid Edge will install and run on these operating systems, but issues determined to be caused by an incompatibility between Solid Edge and an end of life operating system may not be fixed. Due to the potential for critical issues on these older operating systems, Solid Edge 2020 could be the last Solid Edge release that installs on Windows 7 or Windows 8.1.
Hardware system requirementsRecommended system configuration
- Windows 10 Enterprise or Professional (64-bit only) version 1809 or later
- 32 GB RAM or more
- True Color (32-bit) or 16 million colors (24-bit)
- Screen Resolution: 1920 x 1080
Minimum system configuration
- Windows 10 Enterprise or Professional (64-bit only) version 1809 or later
- 16 GB RAM
- 65K Colors
- Screen Resolution: 1920 x 1080
- 8.5 GB of disk space required for installation

Buy Premium From My Links To Get Resumable Support,Max Speed & Support Me