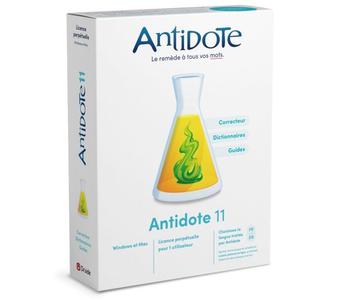 Antidote 11 v1 (x64) Multilingual | Incl. English and Français Language Modules | 1.9 GB
In a single operation, Antidote's corrector flags a wide variety of errors: from capitalization and verb agreement to unwelcome commas and redundancies. Hover over an error to see suggested corrections and see their explanations pop up in a tooltip, then click to confirm them. After correcting spelling and grammar, move on to typography and style, where you will be warned about any repeated words or commonplace verbs.
Even dates and numbers can be flagged thanks to the 200 smart filters that highlight relevant passages. No software has ever given you so much power to refine your writing.
Multiple Dictionaries with Powerful Search Tools
Read a word's full definition and any expressions or proverbs that feature it; see its plural form, how to pronounce it, its rhyming words and its etymology. With a single click, see a list of its synonyms and words from the same family. Discover its semantic field, quotations, word combinations, complete conjugation information, and see how all of these resources interact intelligently. With its incomparable depth, powerful search engines and breathtaking speed, Antidote pushes the limits of what dictionaries can do.
Clear and Detailed
Language
Guides
From grammar to style, from lexicon to syntax, the guides cover all aspects of writing. Quickly access a clear and concise description of the rules and their exceptions. Learn it all thanks to tips and carefully selected examples. Easily browse through related
material
or through all 485 articles, printing whenever you need to. With Antidote's guides, it has never been so easy and enjoyable to write well.
Antidote 11: New Features
The new edition of the most complete writing assistance software comes with an impressive number of improvements that make it even easier to keep your writing healthy. Here are the main new features, followed by a detailed list.
Redesigned Corrector Interface
The corrector showcases your text with a more user-friendly, clean and functional layout. Hide the panels and add shortcuts as you wish, allowing you to focus on the text or get the big picture.
More Accurate and Powerful Correction
The corrector now features a new neural correction engine which adds to the natural intelligence of its computational linguists for more reliable and varied diagnostics.
New Style Corrections
Add even more punch to your writing thanks to the detection of new types of wordy constructions.
Text Replacement
Tooltips now offer more words and even sentence reformulations, especially in the filters, allowing you to confirm replacements and improve your text in one click.
Customize the Corrector
Add your own rules to Antidote's corrector to make it your perfect writing companion. Add alerts to words or phrases you want to avoid, and even corrections to replace them with in one click. Create custom presets and apply them directly to the corrector depending, for example, on the national variety of the recipients or the type of publication.
Additions to the Dictionaries
- 80,000 additional combinations
- 20,000 new examples carefully selected to highlight which prepositions go with a word according to its different meanings
- 11,000 more synonyms
- 5,000 new words and expressions including smishing, cleantech and non-fungible token
Audio pronunciation
An exclusive feature of Antidote+ packages: the pronunciation of over 500,000 word forms can be heard with a Toronto or London accent.
Dictionary of Rhymes
Easily find the ideal rhyme or smoothest consonance with the new dictionary of rhymes and near-rhymes. Harness the power of the phonetic engine and filter by frequency, syllables and more.
System Requirements:
- Operation System: Microsoft Windows 10, Windows 11 (64-bit)
- RAM : 4 GB Memory
- Processor : x86-64/AMD64, 1 GHz
- Disk space : 6 GB (1
language
); 7.5 GB (2
languages
); SSD Drive
Home Page
-http://www.antidote.info/en/antidote

Buy Premium From My Links To Get Resumable Support,Max Speed & Support Me