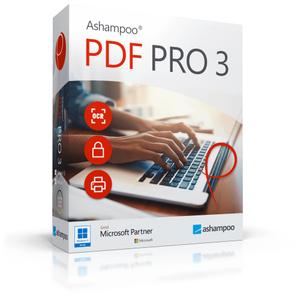 Ashampoo PDF Pro 3.0.2 Multilingual | 332 Mb
Ashampoo PDF Pro 3 is the complete solution to manage and edit your PDF documents. The program has everything you need to create, convert, edit, merge and protect your PDFs. Create perfectly sized documents that are readable on any device and use encryption to protect your property when needed. Your PDFs are now as easily editable as Word documents!
Handy elegant ribbon-based interface
Eye-friendly dark mode for increased productivity
Fast one-click switching between work modes
Customizable accessbar with all important functions
Seamless document zoom
New fold-out elements for access to essential features
Digital signatures for more trustworthy PDFs
Fast and precise document comparisons
PDF/A for long-term digital document preservation
Edit PDFs as quickly and easily as Word documents
Handy and elegant: the new ribbon-based user interface in Ashampoo® PDF Pro 3
With Ashampoo® PDF Pro 3, editing PDFs becomes as easy as editing text documents with an excellent word processor. Version 3 features a new ribbon-based interface that you will also find in any modern office application. This means there's virtually no learning curve! All essential functions are exactly where you'd expect them to be, just like in Microsoft Word, Ashampoo® Write or any other Office program. Editing PDFs has never been easier!
Stress-free ergonomics
Reduce eye strain with dark mode
Computer screens are always stressful to the eyes and documents with lots of white portions only add to the strain! Ashampoo® PDF Pro 3 comes with a dark mode that reduces eye fatigue and lets you work for longer periods, and be more productive, without breaks, at home and in the office!
PDF creation made easy
Built-in PDF printer driver for maximum flexibility
Ashampoo PDF can create high-quality PDFs from any Windows application. Simply click "Print" and select the included Ashampoo PDF virtual printer. If size matters, Ashampoo PDF can automatically downsample images, e.g. to facilitate online publishing.
Well-conceived customizable design
Customize the quick-access bar to your needs
If you've used Ashampoo® Office before you'll be familiar with the quick-access toolbar below the ribbon. Ashampoo® PDF Pro 3 now also offers instant access to essential functions in a single customizable bar. Now, you get to decide which functions best support your work flow for maximum utility and efficiency. After all, good software should adapt to its users, not the other way around!
Don't copy, convert!
Post-edit your documents in MS Word or other formats
Ashampoo PDF converts your PDFs into text documents editable with MS Office or Ashampoo Office. HTML, EPUB, JPG or RTF are also supported as output formats. Ashampoo PDF Pro furthermore supports optical character recognition to convert your scans into editable and searchable documents.
Fast switching between work modes
Switch between work modes in a single click for instant feature access
The quick-access toolbar not only hosts the functions that matter most to you but also toggle switches for the various work modes. Switch from text editing to hand or object mode and back again in a matter of seconds. It's total control at the click of a button.
Document magnification from any mode
Use the slider for seamless zooms
You asked for it and we deliver: Ashampoo® PDF Pro 3 features a document magnification slider in the omnipresent status bar for seamless zooms. Selecting and focusing in on content has never been easier!
Compact and versatile: multiple new fold-out elements
Expand them and gain instant access to essential features!
Like a Swiss Army knife, Ashampoo® PDF Pro 3's ribbon bar features a multitude of fold-out sections. These always contain the most important context-relevant functions in a clear and concise manner.
PDF/A: the secure standard
Use the ISO-standardized PDF/A format for long-term digital document preservation
Ashampoo® PDF Pro 3 supports the ISO-standardized PDF/A format designed to create documents that stay accessible and readable even after many years. This makes it the perfect format to archive your most important documents and preserve them for posterity.
Fast and precise document comparisons
Analyze and spot differences between documents with the built-in compare view
Ashampoo® PDF Pro 3 not only displays, and scrolls, two documents side by side but takes it one step further: By highlighting differences in various colors. The program saves you time and effort when comparing PDFs. And for added comfort, differences can be listed as navigable links in a separate sidebar. Analyze documents and spot differences in no time with Ashampoo® PDF Pro 3!
Create trustworthy PDFs with digital signatures
Sign your documents for authenticity and added trust!
Digital signatures are the equivalent of an ink signature on a paper document, but much more secure. They signal authenticity and prevent secret tampering. Ashampoo® PDF Pro 3 makes signing your documents super easy and helps you build trust with your recipients.
Operating System:
Windows 7, 8/8.1, 10, 11
Home Page
-
https://www.ashampoo.com/

Buy Premium From My Links To Get Resumable Support,Max Speed & Support Me