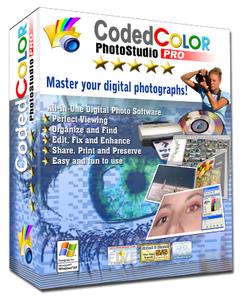 CodedColor PhotoStudio Pro 8.1.1 | 81.5 Mb
CodedColor PhotoStudio Pro is a windows photo viewer and editor to organize, edit, resize, reformat, correct, compare, sort, watermark, annotate and print digital images, and to edit EXIF and IPTC data in digital photos. You can rename multiple images, remove scratches, create panorama pictures (stitch), convert RAW photos (from Canon, Nikon, Olympus, etc. cameras), send images via Skype, send photo SMS, burn digital watermarks, correct colors, run a screenshow, convert and correct JPEG images in a batch process, rename fields, open pictures and image folders from the Explorer, generate a webalbum in HTML and compress JPG images.
The CodedColor software interface looks very similar to ACDSee, is easier to use than Photoshop and more versatile than Picasa and Irfanview, but still contains editing and correction features as effective as Paintshop. The software comes with a detailed handbook and a fast database to store EXIF / IPTC data and color informationen.
CodedColor PhotoStudio is a powerful and versatile photo organizer and image editing software for digital camera users. The user friendly interface includes features like photo editing & printing, web album galleries, slide shows, photo management & cataloging, custom sorting, IPTC & EXIF editor, thumbnail generation, resize & resample images, jp2000, batch conversion, database keyword searching, red eye removal, color / sharpness / brightness & contrast correction, artefacts removal, clone brush, scanner & TWAIN import, screen capture, lossless JPEG rotation, gamma correction, print ordering and screenshows with many transition effects, watermark text, image annotations, panorama stitch & animation, video capture, PDF album export, photo layouts, collages, frames, shadows, histograms, automatic white balance, skype photo sharing, etc. Opens and converts all common image formats: BMP, WMF, GIF, JPEG, JPEG2000, TIFF, PCX, PNG, PSP, PSD, PCD, and all current RAW formats.
Features:
- View, edit and organize photos
- Manage media
- Create HTML web-albums
- Capture videos
- Share and print images
- Batch convert between image formats
- Use various photo effects like Brighten, Sharpen, Remove color stains Improve contrast etc
- Compare multiply images
- Add watermarks to photos
- Fast enhancements
- Remove red eyes
- Remove scratches
- Read and edit EXIF and IPTC data
- View and create panoramas
- Batch rename images
- Rotate lossless
- Support all RAW formats
- Add keywords
- Create photo layouts
Operating System:
Windows 7, 8/8.1, 10
Home Page
-http://www.codedcolor.com/

Buy Premium From My Links To Get Resumable Support,Max Speed & Support Me