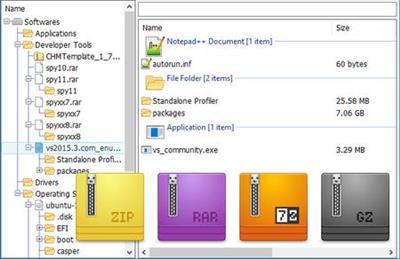 Easy Disk Catalog Maker 1.6.0 | 60 Mb
Easy Disk Catalog Maker is the fastest application for cataloging and indexing files, stored on your disks (e.g. Hard Drives, DVDs, Blu-rays, Network drives etc.). It helps you find a file you are looking for in seconds without even connecting all those disks to the PC.
Search archive files
Catalog and search files and folder inside archives (zip, rar, 7z, iso, tar, vhd and many others), so you don't have to remember which archive has the file, just compress the data to save the disk space.
Search in Seconds
Easy Disk Catalog Maker features the fastest search system that searches 1 million records of files in just five seconds. You can even double-click on search result to open the default File Explorer with that file or folder selected.
Find files easily with file previews
It saves gif or image preview of media files, image files and text preview of plain text files (nfo, txt). This way you won't ever confuse files with similar names. It can also show previews in search results. You still get blazing fast search speed you expect from the catalog application even when using file previews. You can even customize preview quality easily from the settings.
File and Folder Properties
Easy Disk Catalog Maker extracts all the information about files and folders and shows them in Properties window very similar to Windows Explorer Properties window. It also gets the IDv3 (Album, Artist, Genres etc...) tag information from supported audio files (MP3, WAV, FLAC etc...) and metadata (Resolution, Bitrate etc...) from image and video files.
Operating System:
Windows 7, 8/8.1, 10
Home Page
-
https://www.rbsoft.org/

Buy Premium From My Links To Get Resumable Support,Max Speed & Support Me