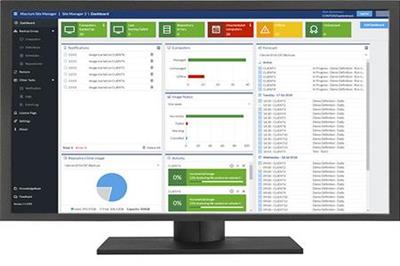 Macrium Site Manager 8.0.6305 (x64) | 319.2 Mb
Macrium Site Manager 7 is our central management console for endpoint backup of your site. The first step to site backup is the Starter Pack. As needs grow or change, additional bundles of agents can be easily added - allowing simple management of your backup needs.
What is Macrium Site Manager?
Macrium Site Manager is a great new addition to the Reflect family of image based backup solutions. Now it is much easier to deploy large numbers of Macrium Reflect endpoint backup agents and manage these from a central location. IT Administrators will be able to use a customisable Dashboard to view backup status at a glance, along with easy problem identification and resolution.
What does Macrium Site Manager do?
Using a clearly defined 4 step process the all new Site Manager allows IT Administrators to discover and group PCs and Servers on the network, define who and what is to be backed up, assign schedules and retention policies, and manage backup repositories. Comprehensive event management, alerts and security logging is included and accessible through a browser based user interface. The architecture leverages commonly used Microsoft Windows technologies and requires no specialist skills to install and configure.
What is a Macrium Agent License (MAL)?
Macrium Agent Licences are installed on the Site Manager Server and each license provides a number of seats. These seats are automatically assigned to computers as they are connected to the Site Manager server. If a computer is removed from the Site Manager server, the seat is freed for use elsewhere. This makes using MALs quick and easy to use as they require no special client configuration. Multiple seats can be managed with a single key, making key and license management easier.
Minimum Requirements:
Site Manager: Windows 7 / Windows Server 2008 R2 or later.
Agent: Windows XP/Windows Server 2003 or later.
Home Page -
https://www.macrium.com/site-manager

Buy Premium From My Links To Get Resumable Support,Max Speed & Support Me