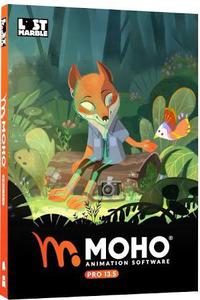 Moho Pro 13.5.2 Build 20211108 (x64) Beta Multilingual | 418.1 Mb
Moho Pro is perfect for professionals looking for a more efficient alternative when creating quality animations! Make your animation projects come to life! Moho's rigging system is intuitive and fast. You can rig your own characters in minutes! Easily create skeletons for humans, animals or any creature or object you want to animate.
The most powerful 2D rigging system
Moho's rigging system is intuitive and fast. You can rig your own characters in minutes! Easily create skeletons for humans, animals or any creature or object you want to animate. Work with Forward and Inverse kinematics. Set target bones, add Pin bones for special control, animate the hierarchy, add Constraints, add automatic squash and stretch to any bone, Copy and Relatively Paste animation between different characters with similar skeletons and much more! Discover why Moho's rigging system is the 'secret weapon' of many artists!
Drawing tools optimized for animation
The unique vector system in Moho is optimized for animation and rigging, keeping the shapes always consistent while they move. Moho vector tools allow you to draw directly inside the software. You can also add brushes and effects to easily obtain natural results. Everything can be animated: curvature, linewidth, exposure, curve profiles, paths, masks, gradients, opacity, point colors... Moho's flexible tools will empower you to animate any style!
Smart Bones
Smart bones are a revolutionary way to make your characters behave exactly in the way you want. Your characters' joints will bend with no distorsions. You can also use Smart Bones as control levers to animate facial expressions, face rotations or even entire body turns! The best part is they are extremely easy to set up. Simply select the bone you want to transform into a Smart Bone, create an action for it and animate the elements in the way you want. Now every time you animate that bone, everything else will move exactly as you planned!
Vitruvian bones (New in Moho 13.5)
Animating foreshortening and complex actions is easier than ever! Inspired by Da Vinci's Vitruvian Man drawing, Vitruvian Bones are a new and powerful way to rig your characters. The intuitive V-bones system allows you to alternate different drawings and sets of bones. For instance, you can have different sets of heads, each with its own controllers. Or the same limb in different perspectives. Vitruvian bones will allow you to group and animate them on the fly just by switching from one to the next. Apply them to any part of the body or even switch entirely different bodies!! This unique approach makes it easier to have rigged characters with the appeal of traditional animation.
Photoshop files Import
Create your illustrations in your favorite software: Photoshop, Clip Studio Paint, Procreate or any application you prefer, then save your art as PSD and import it in Moho. All the layers will be there ready to rig and animate!
Quad meshes to animate exactly in the way you want! (New in Moho 13.5)
Meshes are now even more powerful and easier to use with the new Quads! Animate your artwork in true perspective by simply attaching a four points shape to it. Or create grids for your characters -combining triangles and quads- and make them move like 3D. Bringing your bitmap illustrations, pictures and vector drawings to life has never been easier! Quad meshes open an entire world of possibilities.
Automate your animation with Physics, Particles, Dynamics
Quickly create complex realistic animation! Transform your scene in a gravity playground with the Physics engine, just hit play and see how the objects and characters bounce and react to each other's movement. Create rain, smoke, grass, bird flocks, crowds or anything you can imagine. The powerful Moho's Particle system allows you to mix it with all the animation tools to get exactly the result you are looking for. Add Dynamics to your characters, creating automatic Follow Through for ears, tails, antennas, clothes or anything you want to animate. Just move the character and the Dynamics will do the rest for you!
Add life to your scenes with the new Wind dynamics! (New in Moho 13.5)
Wind is the newest addition to the powerful and easy to use Physics toolset Moho offers! Take absolute control over the strength, direction and turbulence of wind and make your scenes come alive in minutes. Give your backgrounds and characters new life with Wind Dynamics!
Take full control of your animation
Control every detail of your animation with Moho deep and easy to use Timeline. Set the interpolation mode to achieve exactly the timing you want, Smooth, Step, Easy In/Out and many more. Create cycles for any channel, Additive animation, Set intervals to animate on 2s, 3s or any frame number. Easily create natural movement with the Bounce and Elastic interpolations. Edit your animation with the Graph mode and much more! Moho's timeline is intuitive, clean and powerful!
Full 3D space and camera
Use Moho's 3D workspace to place and rotate your layers in it. Then move the camera around to easily achieve a multiplane effect. Have total control on how your layers look with the option to automatically keep the visual size on the layers you move in 3D. Import 3D objects from your favorite software or create basic elements directly in Moho with the Extrusion, Inflate and Lathe options for vector layers.
Lip sync tools
Easily create your lipsync with Switch layers and the Switch selection window. Animating Lip Sync is quick and precise. Complement your work with Papagayo -an open source software also created by Lost Marble- to automate the Lip Sync animation. Just add the audio and text and Papagayo will create the keyframes for you!
FBX Support for Unity™ Game Developers
Unity™ game developers and users can use FBX support of animated 2D content in Moho Pro, eliminating the need to create rigid sprites for game development and providing the ability to get the exact look and feel that they want. FBX, the adaptable file format for 3D animation from Autodesk®, is the most common method for integrating animated 2D and 3D assets in Unity.
Personalize your experience with Scripting
Write your own tools, modify the existing ones or check what other users have done. There are hundreds of powerful tools and improvements created by the community. Make Moho work exactly in the way you want!
System Requirements:
- Windows® 10
- 64-bit OS required
- 2.0 GHz Intel Core i3 or higher
- 4 GB RAM or higher
- 1.6 GB free hard drive space or higher
- OpenGL 4.1 supported graphics card required (1920x1080 recommended) *
Home Page
-
https://moho.lostmarble.com/

Buy Premium From My Links To Get Resumable Support,Max Speed & Support Me