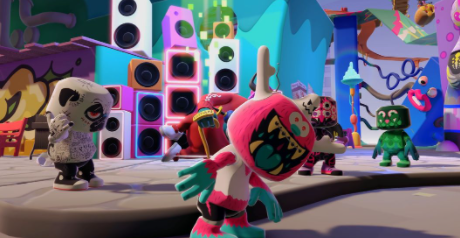 MP4 | Video: h264, 1280x720 | Audio: AAC, 44.1 KHz, 2 Ch
Genre: eLearning |
Language
: English + srt | Duration: 26 lectures (4h 42m) | Size: 2.5 GB
How the blockchain technology will change the gaming industry forever and how you can benefit from that
What you'll learn:
Learn how to switch from "pay to play" to "play to earn"
Understand the implications of the blockchain technology on the gaming market
Apply a battle-tested method about how to analyze good projects/games
Create a portfolio of gaming projects fitting your interests
Requirements
Basic knowledge about what a blockchain is
Basic knowledge about the use of Metamask (even though links to additional resources are provided)
Description
In the last decades it was only possible to make a living from playing games for a selected few that invested uncountable hours into a single game to perfect their skills. The blockchain technology changes that and makes earning money from playing a game an option for everybody!
...and it´s not even necessary to invest countless hours into a game. The status quo up to this point in time of World of Warcraft pro gamers that practise 12 hours a day just to get one single strategy right is done for good. Games like Gods Unchained reduce the amount of time to play to a bare minimum, some even to a few hours a week.
Certainly, there are downsides too. We are very early in the blockchain gaming development and to research well funded and well produced games is an exhausting task. Within every trend there are foul players you need to identify to not get caught with a games that issues a coin or a NFT that is practically worthless. Also fraud and scams, especially pump-and-dump schemes will pop up like crazy. You need to avoid them at all costs!
BUT, that what this course is good for. You will be able to seperate the good, the bad and the ugly and find your niche game where you can make profits simply by enjoying the game. I put a very reduced but highly effective checklist together you can use to evaluate new games and maybe find new hidden gems and be an early adopter which usually comes with additional benefits.
It doesn´t matter in what kind of games you are into. Be it a First person shooter, a role playing game, card collecting or go hunt the best times on a racing track. Even right now, the options are already there and I´m certain you´ll find something that catch your interest in one of the introduced games in this video series.
And the best is yet to come. Not speaking about games with insane trailers like "Star Atlas" but from the fact that this course will be extended for at least 3-4 more months with 10+ more games! Why? Because we are so early! You´ll hear me saying that plenty of times in the videos however, it needs to be understood that´s why I´m repeating that so often.
If you read that in early to mid 2022, see it as a document of the current point in time. the middle of november 2021. Plenty of games and projects as well as coins and NFTs will be out there and the big sorting of the wheat from the chaff might already caused it´s first victims. The big players and those who really work with their communities will prevail. A live changing effect is possible for all of us. We just need to take the ball and run with it.
And not forget, we are early. so bare in mind that some of the shown games are in their early phase as well. Some are even as early as in Alpha mode but where else is a better start than at the beginning right? Just think if you would have been an early investor in Microsoft or Amazon or in our case in Blizzard or EA? You get the point and now get going and play a game to make some money!
Who this course is for
Everybody who wants to make a living (or at least some casual earnings) by playing games
Blockchain enthusiasts which intend to widen their portfolio