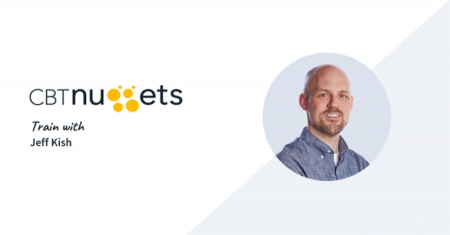 Jeff Kish | Duration: 3:00 h | Video: H264 1280x720 | Audio: AAC 22 kHz mono | 951 MB |
Language
: English
In this intermediate Cisco skills training, Jeff Kish covers how to configure iSCSI VLANs, iSCSI QoS, iSCSI Boot, and UCS appliance ports.
This Configuring UCS skills course is an essential resource for anyone who works with UCS. Cisco UCS makes really deep configurations relatively easy. You just need to learn how to do it.
Once
done with this Cisco Unified Computing System training, you'll have a good handle on vNIC template types, fabric failover, overlay vNIC, storage arrays, and iSCSI Boot service profiles. It's everything you need to know about configuring UCS with ease.
For anyone with network engineers on their team, this Cisco training can be used to onboard new network engineers, curated into individual or team training plans, or simply used as a Cisco reference resource.
This Cisco UCS training covers 642-999 DCUCI Unified Computing Systems exam objectives, including these topics:
• Configure networking elements in the UCS Manager
• Identify what a proper iSCSI boot looks like
• Change the unified ports of UCS from Ethernet to FC
• Create a QoS policy for FCOE traffic
• Configure backups in a UCS environment
• Control access to UCS Manager
• Create RBAC roles and assign them to users
• Add iSCSI vNICs to a Service profile
• Configure iSCSI storage and Fibre Channel (FC) storage
This Cisco Unified Computing System training is considered engineer-level Cisco training, which means it was designed for network engineers. This Unified Computing Systems skills course is designed for network engineers with three to five years of experience with data center infrastructure.