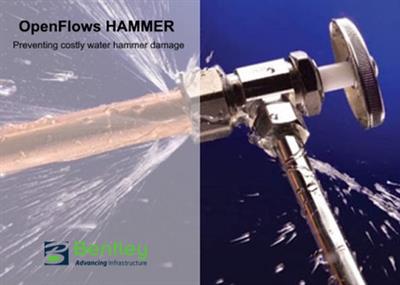 OpenFlows Hammer CONNECT Editon Update 3.3 | 1.4 Gb
The Hydraulics and Hydrology software development team are pleased to announce the availability of OpenFlows HAMMER CONNECT Edition Update 3.3 (10.03.03.72). This update introduces improvements and features to help you be more successful.
Check Valve Dynamic Curves
Check valve dynamic curves, or check valve deceleration vs reverse velocity curves, are now available in HAMMER. The reverse velocity and deceleration at a given time step can be calculated and compared to the check valve dynamic curve to determine when the check valve will close instantaneously.
To use this feature, set the Check Valve Closure Type to "Dynamic Characteristics Curve."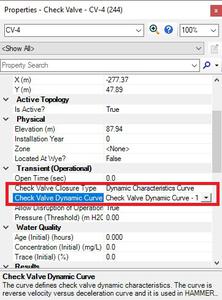 You can then select an item available in the Check Valve Dynamic Curve manager (Components > More > Check Valve Dynamic Curves). This manager will include the reverse velocity vs deceleration curve data for check valve used in the model.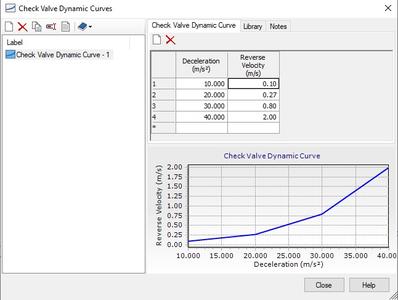 Support for time-based Surge Relief Valves
A new time-based option has been added to surge relief valves.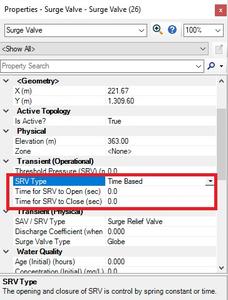 The user can now select the Time-Based option for the SRV Type property field. When this option is selected, the time for the valve to open and close can be assigned to the surge valve.
Support for negative pressure at Surge Relief Valves
Improvements have been made to the SRV calculations at negative pressures. In the new version, regardless of whether the SRV is connected to one or two pipes, the pressure is able to drop down to the vapor pressure limit (default: -14 psi) but vapor volume is not tracked. In older versions, negative pressure was only possible with SRVs connected to a single pipe (at a tee / dead-end), while the pressure at SRVs connected to two pipes was limited to zero.
Select in Drawing option in Profiles manager
A Select in Drawing option has been included in the Profiles manager. By choosing the Select in Drawing button, the elements in the profile will be highlighted in the drawing. A user would be able to view properties of the elements or add them to a selection set.

"Add to Selection Set" and "Remove from Selection Set" options in Selection Set manager
You can add or remove elements from a selection use the new Add to Selection Set and Remove from Selection Set feature in the Selection Sets manager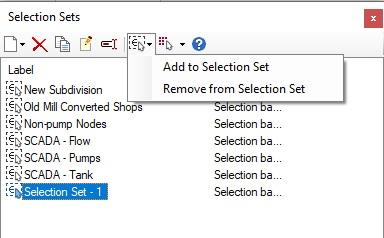 Highlight the elements you want to add or remove from a selection set and select the selection set that you want to update. Click the Update Selection Set button in the Selection Sets manager. There will be two options: Add to Selection Set and Remove from Selection Set. When you select one of these options, the highlighted elements will be added or removed from the selection.
IN option included in Query Builder
An IN option was been added to the Query builder so that you can better create queries to use in your model.
Compatible Platforms and Operating Systems
Compatible Operating Systems
- Windows 10 (32-bit or 64-bit)
- Windows 8 (32-bit or 64-bit)
Note: Windows 7 is no longer supported because the CONNECTION Client prerequisite no longer supports it (see notes here)
Supported Platforms:
- Standalone (no CAD or GIS software required)
- MicroStation V8i SELECTseries 10 and earlier (CONNECT Edition Integration is not yet supported)
- AutoCAD 2019, 2020, 2021
- ArcMap 10.8 and earlier (see this for ArcGIS Pro integration)
Model Compatibility
Because of updates to HAMMER, models saved in version 10.03.03.72 can be opened in older versions of 10.03.XX.XX. All older models can be opened in the latest version of HAMMER without issue.
Stability enhancements and fixes to reported issues
As with all new versions, this release of HAMMER includes fixes to various user-reported issues from the previous release, providing an overall more stable experience.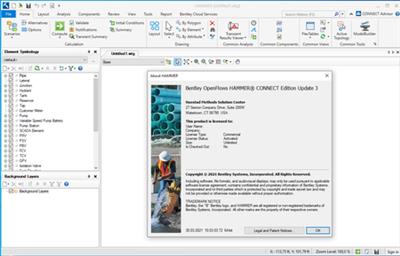 With OpenFlows WorkSuite, you can confidently plan, design, and operate water systems
of any complexity. OpenFlows technologies combine real-time intelligence with spatial analytics, delivering visibility and insights to ensure optimal real-world outcomes.
Apply OpenFlows solutions to a wide array of water-related processes, including water distribution and analysis, sanitary and combined sewer management, and flood risk assessment and mitigation.
A transient analysis and water hammer software, HAMMER
is the most cost-effective way to control transients. If left unchecked in a water or sewer system, transient pressures can cause catastrophic damage to pipes and equipment, risk the safety of operators, allow intrusion of dangerous contaminants into the system, and interrupt service to customers. Used successfully on high-profile projects around the world, HAMMER can identify critical points in the system that need protection and facilitate sound system design.
HAMMER introduction and basicsIn this presentation you will be introduced to Bentley's OpenFlows HAMMER and learn the basics of a transient analysis.
Bentley Systems, Incorporated
is the global leader dedicated to providing architects, engineers, constructors, and owner-operators with comprehensive architecture and engineering software solutions for sustaining infrastructure. Founded in 1984, Bentley has nearly 3,000 colleagues in more than 45 countries, $500 million in annual revenues, and, since 2001, has invested more than $1 billion in research, development, and acquisitions.
Product:
OpenFlows HAMMER
Version:
CONNECT Edition Update 3.3 (10.03.03.72)
Supported Architectures:
x86 or x64
Website Home Page :
www.bentley.com
Languages Supported:
english
System Requirements:
PC *
Size:
1.4 Gb

Buy Premium From My Links To Get Resumable Support,Max Speed & Support Me