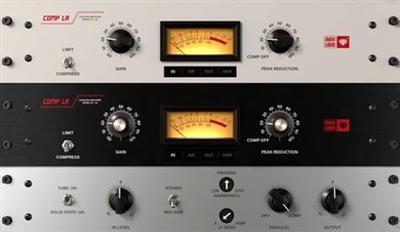 Overloud Gem Comp LA 1.0.4 | 403.7 Mb
Overloud Comp LA is the revolutionary simulation of two legendary optical compressors into a single plug-in. The 2A version is tube-based and delivers a warmer, harmonically rich tone. The 3A version is solid-state based and has a faster attack, cleaner tone.
Features:
Hyper-realistic simulation of the opto-attenuator and of the dual stage release curve
Built-in Mid-Side Processing
Built-in Parallel Compression
User-controllable harmonic generation amount and metering
LF sensitivity (R37) control
User-selectable Ultra Oversampling mode
Low CPU usage: more than 500 instances on a Macbook Pro Retina
Multilevel undo-redo
A/B Comparison
Scribble Strips: take notes anywhere on the plugin panel
Meter Calibration: calibrate the VU meters at 4 different sensibilities
WINDOWS SYSTEM COMPATIBILITY
Comp LA is available as VST, AAX64 (ProTools 11 and Above) plugins, as well as a standalone application.
32bit and 64bit are natively supported except AAX32.
You can authorize Comp LA on up to three computers that you own and one USB stick with a simple one-click software procedure (no hardware key needed).
WINDOWS SYSTEM REQUIREMENTS
Core i3 1.4GHz with 4Gb of RAM, 1280x800 video.
Windows Vista, Windows 7, Windows 8 and Windows® 10 are supported.
Home Page
-
https://overloud.com/

Buy Premium From My Links To Get Resumable Support,Max Speed & Support Me