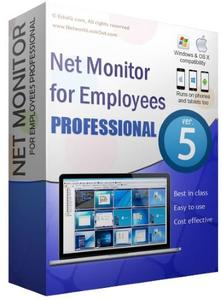 Net Monitor For Employees Pro 5.8.3 | 52.5 Mb
Powerful Employee Monitoring Software. Increasing productivity in offices is not as much a task you may think. If you are a business leader, a teacher, a chairman of a company or project supervisor, you need strong employee monitoring software to keep an eye over the screen of your students, employees and team members.
Employee Monitoring and Why It is Essential for Your Business:
Businesses worldwide suffer from employees not doing what they are paid to do. With that costing business a lot of money and time, especially small businesses or those who are struggling to get on top of their competition.
Why is employee monitoring software essential for your business?
Employee monitoring software has become an essential part of any business because it helps businesses track employee activity and prevent employees from sharing confidential company data by uploading it to their personal cloud or downloading it to their USB drives.
The web opens prime avenues for employees to expose sensitive or regulated data. This makes for a major blind spot where companies can be at risk:
- Of employees running application reports to collect sensitive data.
- Of employees installing remote control applications to work from home.
- Of employees uploading sensitive data to their personal cloud or downloading it to their USB drive.
What can employers track?
Employers can record and track any screen activity with Desktop Recorder and then export it as MPEG4 (video) or JPEG (pictures). This comes in very useful when employers are not on their computers or phones/tablets. They can also log and export any
Internet
Usage and Application Usage data using Reporting. Keystroke Logging and exporting of all presses keys in a specific time frame is also available.
Biggest benefits of employee monitoring
- Businesses can save large sums of money that they are spending on employee wages and development. It can particularly help small and struggling businesses.
- It increases productivity and lessens the time wasted of employees slacking off.
- It offers security measures to protect confidential data and the integrity of a company.
The most important features for employee monitoring:
- Desktop Recorder is a great feature that runs in the background and records all desktop activity.
-
Internet
control is a crucial tool to block all unwanted pages like Facebook, Twitter, etc...
- Reporting lets you log web and application usage and log keystrokes.
- Remote control even allows you to control computers from a mobile/tablet.
- View and block any unwanted applications or processes.
- Restrictions allow you to restrict the use of certain devices and functions. By locking USB drives you can prevent employees from downloading or uploading any files to the PC
- Several tools allow you to turn the computer on or of, lets you run shell commands, open webpages, etc.
- Increase productivity with our integrated messaging, desktop sharing and file sharing features.
Supported Desktop Platforms:
- Windows XP
- Windows 2003
- Windows Vista (32/64) bit
- Windows 7 (32/64) bit
- Windows 8 / 8.1 (32/64) bit
- Windows 10 (32/64) bit
Home Page
-http://networklookout.com/

Buy Premium From My Links To Get Resumable Support,Max Speed & Support Me