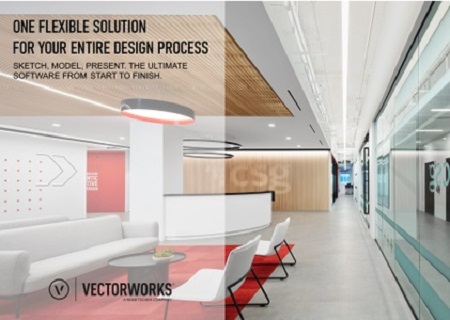 VectorWorks 2022 SP1.0 macOs | 4.8 Gb
Global design and BIM software provider Vectorworks, Inc. releases Vectorworks 2022 emphasizing product quality improvements, superior performance and the user experience.
This latest release includes Vectorworks Architect, Landmark, Spotlight, Fundamentals, Braceworks, ConnectCAD and Vision.
What's New in Vectorworks 2022
In addition, Vectorworks reveals its comprehensive solution for designers working within multiple industries has been renamed to accurately reflect its full range of design and BIM capabilities. Vectorworks Design Suite, formerly Vectorworks Designer, offers all the up-to-date features of Vectorworks Fundamentals, Architect, Landmark and Spotlight, providing the entire suite of technology in one interface.
The Vectorworks 2022 product line includes improvements focused on next-gen tech, 3D and BIM workflows, interoperability, landscapes and GIS and entertainment design workflows.
With Vectorworks 2022, the main areas of development in core technologies and interfaces make Vectorworks products faster and more intuitive, while also providing the stability and accuracy required for maximum efficiency. Vectorworks is the first major BIM application to run natively on Apple silicon processors. Testing of Vectorworks 2022 has shown speed increases of two to four times.
Additional improvements in this area include full use of Metal on Mac and DirectX on Windows in the Vectorworks Graphics Module, Maxon's Redshift Render Mode and a new Direct Link to Twinmotion. Plus, a redesign of the attribute and snapping palettes and new per-face texture mapping support an intuitive process for creating and visualizing designs.
Vectorworks continues to provide design-focused tools for BIM workflows that work for all designers. Direct editing improvements to the stair tool help simplify the process of designing complex objects. Updates to the worksheet database and data manager provide a consistent interface, better visual cues, a new search mode and an improved formula bar with a new set of functions to help make generating targeted reports, schedules and
material
take offs easy. With a focus on re-engineering and the modernization of core architectural objects like wall components and data reporting to support the creation of accurate BIM models, Vectorworks 2022 offers improvements to your workflow for greater precision, control and accuracy for both the visual model and the corresponding data.
Vectorworks takes pride in being a design hub and continues to invest in optimizing the most-used file formats, supporting value-added partner products and ensuring that project teams and BIM collaboration remain unrivaled. Version 2022 includes improvements to the DWG file import to support Civil 3D, DWG and GIS georeferencing. Additionally, IFC import/export capabilities are enhanced for improved quantity takeoffs and GIS workflows.
As the BIM platform of choice for landscape architecture, Vectorworks Landmark 2022 delivers more options for accurate modeling reflective of real-life design considerations. Improvements to the site model make it easier to define and report on soil layers. Updates to the plant tool, hardscape objects, and integrations with Esri make it easier to produce landscape BIM models that leverage GIS workflows while meeting the demand to create sustainable sites.
Our commitment to users in the entertainment industry is to invest first and foremost in re-engineering for better file performance and to provide highly responsive tools. Version 2022 of Vectorworks Spotlight, Braceworks, ConnectCAD and Vision has greater consistency between tools and functionality focused on simplifying processes such as cable and power planning to make your overall workflow efficient. This latest release also delivers many usability enhancements such as better controls on the camera tool, a position name field for truss and context menus for shifting data around. Improved placement and direct editing of objects in Schematic Views makes day-to-day documentation work in Vectorworks Spotlight faster and more intuitive.
Vectorworks is a versatile, on-premise application that provides extensive 2D drafting, 3D modeling, BIM and rendering capabilities for your architectural and landscape design needs. Vectorworks is equipped with designer-focused tools and features, allowing your workflows to have great freedom, ease of use and flexibility.
The Vectorworks 2022 product line includes improvements focused on next-gen tech, 3D and BIM workflows, interoperability, landscapes and GIS and entertainment design workflows.
Vectorworks, Inc. is an award-winning design and BIM software provider serving the architecture, landscape architecture and entertainment industries in 85 countries. Creating intuitive software since 1985, we've become the preeminent software built to manage the entire design process. Globally more than 685,000 users are creating, connecting and influencing the next generation of design with Vectorworks on Mac and Windows. Headquartered in Columbia, Maryland, with offices in Newbury and London, England and Vancouver, Canada, Vectorworks is a part of the Nemetschek Group.
Product: Vectorworks
Version: 2022 SP1 (619242)
Supported Architectures: x64
Languages
Supported: english
System Requirements: macOsx
Size: 4.8 Gb
System Requirements:
Vectorworks 2022 System Requirements
The following are real-world system requirements for running Vectorworks 2022. In some demanding cases, we would suggest a more capable machine than is described in these hardware profiles. Likewise, there are some less demanding situations where Vectorworks will perform well on older hardware.
Operating Systems
- macOS 11 (Big Sur)
- macOS 10.15 (Catalina)
Minimum Hardware Profile
Entry-level Profile:
For small projects, simple models/drawings with a low level of detail, simple renderings (such as, small residential projects, small theaters, small landscaping design)
Processor: Intel Core i5 or AMD Ryzen 5, or better / Apple M series
RAM: 8GB or more
Graphics Card: 2GB VRAM or more, macOS: Metal GPUFamily1 or later,
Some integrated graphics cards such as Intel Iris Plus/Pro graphics and AMD Radeon RX Vega series are acceptable for very simple models/drawings, but a dedicated graphics card is preferable.
Vision requires a dedicated OpenGL 4.1 compatible graphics card with 2GB of VRAM or more, preferably released in the past three years (e.g. NVIDIA GeForce RTX 2060 series, AMD Radeon RX 500 series).
Using multiple view panes with different visibilities in all panes requires a graphics card with at least 2GB of VRAM.
Display Resolution: 1440 x 900 or higher
Hard Disk: 10GB free disk space is required for the installation. 30GB or more is required for a full installation with all libraries.
Case sensitive file system volumes are not supported.
Link Download

Download Via UploadGig
Download Via Rapidgator
Extract files with WinRar 5 or Latest !