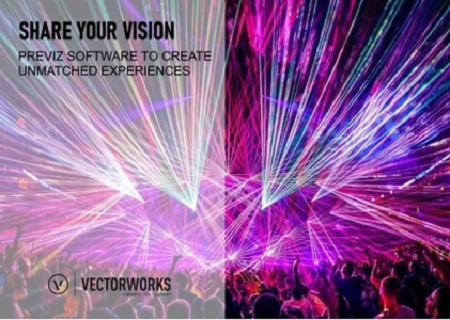 VectorWorks Vision 2022 macOs | 1.2 Gb
Vectorworks launches Vectorworks Vision 2022 software. This solution puts the power to previsualize and cue your show at your fingertips, working with your console of choice to help you preprogram before you even set foot in your event space.
New features
The following table contains a list of new and improved features for the initial release of the Vision 2022 software.
Laser previz with Pangolin BEYOND
The new Laser tool adds laser projectors to the scene, so you can previsualize laser show content from BEYOND
New default Vision file format
VSN is Vision's new native file format. VSN files have faster load times, use less graphics memory, and occupy less hard drive space than .v3s files. When a .vsn file is saved, a separate textures folder is created only if the Vision file has video content.
- Legacy .v3s files can be automatically converted and opened in Vision.
- VSN files can be exported as .v3s files using the new Export as Vision Legacy File command.
Purging unused resources
The new Purge command removes items from the .vsn file
Improved preference settings
The preference settings have been reorganized, making it easier to customize Vision and share files seamlessly. All settings that affect graphics quality and performance are centralized in the Vision Preferences dialog box, and all settings that affect the look of the scene are in the Document Preferences dialog box.
Both dialog boxes have Basic and Advanced modes. Use Basic mode to access the frequently used settings for a quick configuration. Advanced mode includes all available settings for finer control.
The settings now have more intuitive names, so they are easier to identify.
The new Performance-Quality slider lets you globally set the Vision preferences for the right balance of application performance and graphics quality. The settings update in real time, so new users can learn how the settings work.
GDTF improvements
Now you can focus GDTF lighting devices in Vision
Selecting the MA-Net3 interface
Now you can select which network interface to use when connecting to MA-Net3
Progress bar
A progress bar displays during heavy save and export operations. The title bar indicates when any save or export is complete.
Tooltip display
Tooltips are now available in the Vision Preferences dialog box.
The new preference to Enable tooltips lets you toggle the display of tooltips for tools, preferences, and properties in Vision.
Documentation Improvements
The following table lists major improvements to the documentation for the initial release of the Vision 2022 software.
Embedded video tips
Now you can watch video tips directly in the help. The videos are embedded in the topics they describe, so they're easy to find. Play the videos on the page, in a pop-up window, or on the video host site (YouTube or Vimeo).
With Vision 2022, lasers can be added to any visualization. Vision supports the network protocol from Pangolin-Laser-Systems - a leading provider of laser show software and show laser interfaces. In conjunction with the Pangolin BEYOND software, laser projectors can now be configured in both Pangolin and Vision and visualized in real time.
Vectorworks, Inc. is an award-winning design and BIM software provider serving the architecture, landscape architecture and entertainment industries in 85 countries. Creating intuitive software since 1985, we've become the preeminent software built to manage the entire design process. Globally more than 685,000 users are creating, connecting and influencing the next generation of design with Vectorworks on Mac and Windows. Headquartered in Columbia, Maryland, with offices in Newbury and London, England and Vancouver, Canada, Vectorworks is a part of the Nemetschek Group.
Product: VectorWorks Vision
Version: 2022 (616400)
Supported Architectures: x64
Languages
Supported: english
System Requirements: macOs
Size: 1.2 Gb
System Requirements:
Vectorworks 2022 System Requirements
The following are real-world system requirements for running Vectorworks 2022. In some demanding cases, we would suggest a more capable machine than is described in these hardware profiles. Likewise, there are some less demanding situations where Vectorworks will perform well on older hardware.
Operating Systems
- macOS 11 (Big Sur)
- macOS 10.15 (Catalina)
Minimum Hardware Profile
Entry-level Profile:
For small projects, simple models/drawings with a low level of detail, simple renderings (such as, small residential projects, small theaters, small landscaping design)
Processor: Intel Core i5 or AMD Ryzen 5, or better / Apple M series
RAM: 8GB or more
Graphics Card: 2GB VRAM or more, macOS: Metal GPUFamily1 or later,
Some integrated graphics cards such as Intel Iris Plus/Pro graphics and AMD Radeon RX Vega series are acceptable for very simple models/drawings, but a dedicated graphics card is preferable.
Vision requires a dedicated OpenGL 4.1 compatible graphics card with 2GB of VRAM or more, preferably released in the past three years (e.g. NVIDIA GeForce RTX 2060 series, AMD Radeon RX 500 series).
Using multiple view panes with different visibilities in all panes requires a graphics card with at least 2GB of VRAM.
Display Resolution: 1440 x 900 or higher
Hard Disk: 10GB free disk space is required for the installation. 30GB or more is required for a full installation with all libraries.
Case sensitive file system volumes are not supported.
Link Download

Download Via UploadGig
Download Via Rapidgator
Extract files with WinRar 5 or Latest !