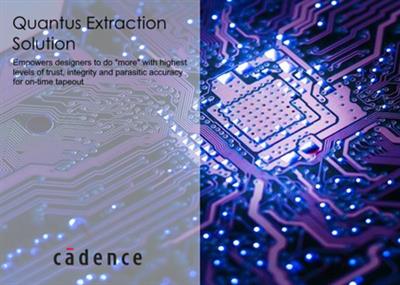 Cadence Quantus 19.10.000 | 1.2 Gb
Cadence Design Systems, Inc. , the leader in global electronic design innovation, has unveiled Quantus 19.10.000 is the industry's most trusted signoff parasitic extraction tool, and is a leader in 3nm design adoptions and tapeouts.
Quantus Release Version 19.10
CCMPR01563902 Remove need for SUBSTRATESTORMSITE - substrate_technology_directory as fixed name in Quantus techdir
CCMPR01793541 Error message improvement when qrcToDfII executable is not present
CCMPR01857177 Support of multiple template files in the Quantus techdir
CCMPR01880169 Quantus to error out when output is Spectre
CCMPR01900662 Quantus UI Load/Save state conflict with the LSF command containing backslash "\"
CCMPR01902633 Resistance of source/drain net shows variation between "add_explicit_via true" and "add_explicit_via false"
CCMPR01933145 Stage delay time difference in Quantus and Quantus FS results
CCMPR01939675 Issue in SPEF extraction
CCMPR01956659 Accuracy issue for via-via cap model
CCMPR01988485 P2P R Analysis UI needs to error out and exit if licenses are not available
CCMPR01991123 Techgen error for multi-diffusion function
CCMPR01993875 Remove hard coded LSF bsub in the effective command in the Run Location queue field in the GUI
CCMPR01996331 Stream layer map file does not accept tabs
CCMPR02003981 Quantus errors out in the presence of PVS via fill shapes
CCMPR02005299 Difference in RC value between enable_eco_mode true and false
CCMPR02009064 Quantus errors out during hierarchical extraction
CCMPR02010915 Quantus is not setting the lpe_confile flags when output is smart_view
CCMPR02011902 Quantus errors out when setting "parasitic_reduction -enable_reduction true"
CCMPR02014173 Quantus cell-level extraction reports a physically open net
CCMPR02014949 New CCL for cell-level node reduction
CCMPR02019690 Quantus errors out while reading DEF of the block
CCMPR02021707 No license backward rights in EXT 19.1
CCMPR02022483 Document improvement in Quantus standalone reduction
CCMPR02023943 Quantus 18.20 fails but 18.12 version runs successfully
CCMPR02024731 Documentation is wrong for the new hierarchical OA cell-level flow
CCMPR02027642 Quantus cell-level is reporting shorts for multiple times between the same nets
CCMPR02028791 Quantus errors out when process_technology -silicon_density advanced is used
The Cadence Quantus Extraction Solution
is a next-generation parasitic extraction tool for digital and custom/analog flows. Providing the fastest single-corner and multi-corner runtimes compared to competitive products, the tool features massively parallel architecture for performance and scalability across hundreds of CPUs. Its high-accuracy modeling engine delivers impeccable accuracy that has been silicon proven over thousands of tapeouts to support FinFET and all other designs. It uses one unified, foundry-qualified "qrctechfile" for both digital and transistor extraction. The solution, employing a robust 3D modeling framework, is certified by TSMC for all nodes down to 3nm. In addition, the Quantus Extraction Solution is certified for all nodes at all other leading foundries.
Quantus FS-Massively Parallel and Cloud-Ready 3D Parasitic Extraction Field SolverThe Quantus FS solution improves signoff parasitic extraction turnaround time for all types of designs, technology nodes. This 3D parasitic extraction tool is the first 3D field solver that is massively parallel, cloud ready, significantly improve performance while allowing designers to get accuracy.
Cadence is a pivotal leader in electronic design and computational expertise,
using its Intelligent System Design strategy to turn design concepts into reality. Cadence customers are the world's most creative and innovative companies, delivering extraordinary electronic products from chips to boards to systems for the most dynamic market applications.
Product:
Cadence Quantus
Version:
19.10.000 Base release
Supported Architectures:
x86_64
Website Home Page :
www.cadence.com
Languages Supported:
english
System Requirements:
Linux *
Size:
1.2 Gb
Supported Platforms and Operating Systems
Platform: lnx86
Architecture: x86_64
Supported OS: RHEL 6, RHEL 7, SLES 11, SLES 12, Ubuntu 14.04

Buy Premium From My Links To Get Resumable Support,Max Speed & Support Me