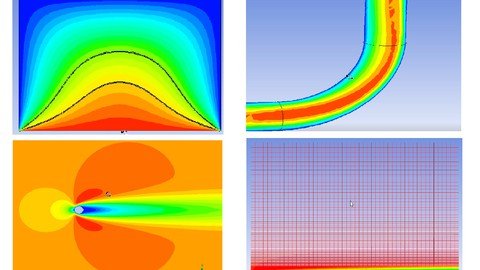 Ansys Mechanical Fluent Cfd Using Projects Beginner to Adv.
MP4 | Video: h264, 1280x720 | Audio: AAC, 44.1 KHz
Language
: English | Size: 3.23 GB | Duration: 6h 41mAnsys Mechanical- Learn Beginner to Advanced Level of CFD using Ansys Fluent and Ansys Workbench
What you'll learn
Understand the Problem to Solve & Its Parameters
Can Able to Solve Any Project from Beginner to Advanced Level
Students will Get Project Based Learning
Setup problem using different CFD tools such as Fluent, Geometry Model, Design Modeller, Ansys Meshing etc
Will Learn Ansys Workbench
Requirements
Computer with 4 GB Ram and i3 Processor is Recommend
Basic Knowledge of Fluid
You Need to Have Ansys Software Installed in Your Computer
Even Beginner can Understand Properly
Description
Learn Ansys Fluent CFD Mechanical Using Projects Beginner to Advanced, Ansys Workbench- This course is well structure course based on the current situation of requirement, this course is designed in that way so that students can learn industry standard things which is utilizing in research field nowadays.
Even you are beginner you a learn this course and become hero in Ansys CFD. you will learn project based learning which will give you an edge to go ahead of using this software.
In this course we have added projects one by one in that way so that you can learn the basic first and then go for advanced level.
This course is taught in two parts one is for beginner level, in the beginner level we have added total 5 projects with step by step tutorial.
and in the next part of the course you will get advanced level projects those even taught in pretty simple way so that you can easily able to understand the steps and follow it.
So, that you can be industry ready after completing the course.
2nd part of this course having 5 more projects, so in this course total projects you will learn 10, which will help you to learn numerous problem solving skills which is really a good way to learn Ansys CFD.
Why to Get This Course?
1. Learn Ansys Started from Zero Level to Advanced Level.
2. Instructor is having great level of experience, done M.Tech & PhD* from Indian Institute of Technology Kanpur & Kharagpur Respectively.
3. 10+ Hours of Great Learning Experience.
4. Project based Learning.
and Many more
What are you waiting for you?
You also have Full 30 days money back guarantee.
So, click on Buy Now and enroll to the course and learn Ansys CFD.
See you in course.
Who this course is for:
Those wanted to learn about Ansys Workbench, CFD, Fluent.