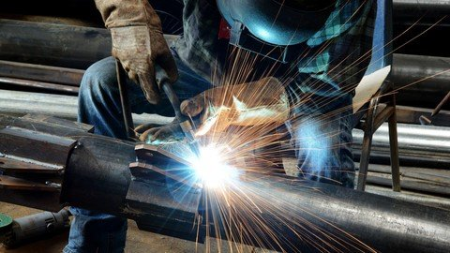 MP4 | Video: h264, 1280x720 | Audio: AAC, 44.1 KHz
Language
: English | Size: 1.25 GB| Duration: 2h 9mLearn weldment design in depth
What you'll learn
Weldment structure
Corner treatment
Trim or extend structural member
3D sketch
End plate
Gusset
Adding cutlist
Bounding box
Weld Bead
Weldment structure system
Primary member type
Secondary member type
Corner management
And many other important topics
Requirements
Finish "SolidWorks 2019 Essential Training"
Access Solidworks 2019 or later
Description
In this SolidWorks Weldment Essential training course, expert author Asif Ahmed, Certified SolidWorks Expert (CSWE) will teach you how to work in the SolidWorks weldment environment. This course can be used to help you prepare for the Weldments Certification, and is designed for users that already have a fundamental understanding of SolidWorks.
You will start by learning how to create a structural member, then jump into learning about 2D and 3D layout sketches. From there, Asif will teach you how to add plates, create end caps and gussets, and use symmetry. This video tutorial will also cover managing cut lists, creating a bounding box, and adding weld beads and weld bead tables. You will also learn how to create sub-weldments and custom structural member profiles.
Follow along with our expert instructor in this training course to get:
·Concise, informative and broadcast-quality SolidWorks 2018 Weldment Essential training videos delivered to your desktop.
·2+ hours of HD video tutorials
·Over 30 individual video lectures
·Exercise files- to help you become proficient with the
material
.
·The ability to learn at your own pace with our intuitive, easy-to-use interface
·A quick grasp of even the most complex SolidWorks Weldment Essential subjects because they're broken into simple, easy to follow tutorial videos.
Once you have completed this computer based training course, you will have an in-depth understanding of how to create weldments in the latest version of SolidWorks. Working files are included, allowing you to follow along with the author throughout the lessons.
In this SolidWorks Weldment Essential training video tutorial series, you'll quickly have relevant skills for real-world applications.
Who this course is for:
A person who want to be proficient in Solidworks to find a job
A person who want to improve Solidworks topics
A person who want to learn Solidworks absolutely from scratch
A person who want to design 3D model without spending huge time on learning.
A person who want to get a better job using Solidworks skills.
Any Graduate student or Diploma Students
Individual professional
Hobbyist