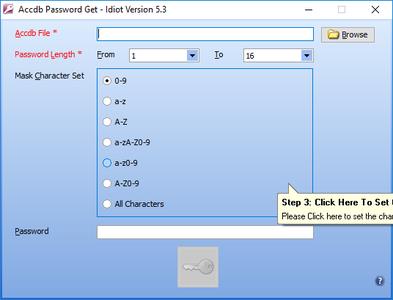 Accdb Password Get Idiot Version 5.15.56.98 | 1.3 Mb
Accdb Password Get - Idiot Version is a simple, reliable and most of all easy to use software solution, designed to retrieve passwords for your Access database files. It can recover your any password in short time, regardless of its length or type of characters that it contains.
Diverse character masks
The application offers you the possibility to enable several character masks, in order to facilitate the search. If, for instance, you know your password only contains capitalized letters, you can apply the correspondent filter. Similarly, you can enable alpha-numeric masks, numeric or combination of capitalized, non-capitalized letters and numbers.
You can also specify the approximate length of the password string, by entering a minimum and a maximum length value. For instance, if you know your Password (If need) not shorter than 4 characters or longer than 20, you can enter the values in the dedicated fields.
Special feature
The program requires the length values for the password string, but the masks are not necessary. This means that the application can recover any kind of password, even if you have forgotten it completely. You can simply select the All masks option from the Character mask sets.
Accdb Password Get - Idiot Version can easily decrypt your database files by revealing the protection code. Just upload the Access database file and let the application decipher it. The retrieved Password (If need) displayed in the dedicated field.
Operating System:
Windows All
Home Page
-http://www.accdbpasswordrecovery.com/
Visit All My News

Buy Premium From My Links To Get Resumable Support,Max Speed & Support Me