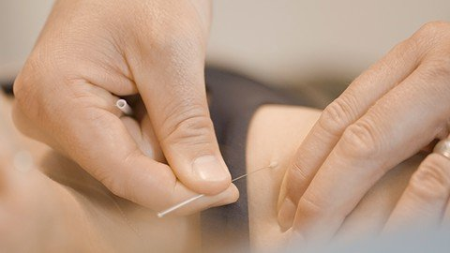 MP4 | Video: h264, 1280x720 | Audio: AAC, 44.1 KHz
Language
: English | Size: 9.89 GB | Duration: 8h 31mOnline Mentorship, Techniques, Critical Thinking & Integration into your Clinical Practice
What you'll learn
IMS Dry Needling
Physiotherapy Clinical Reasoning
Intramuscular Stimulation
Description
An online mentorship course for healthcare professionals that are legally allowed to utilize dry needling as part of their scope of practice. This video-based course is designed to improve your clinical reasoning, client education and technical skills with dry needling. Physiotherapist Brent Stevenson of WhyThingsHurt and Envision Physiotherapy walks you through every step of how and why he uses IMS in his practice.
The course is intended for clinicians that are already certified in some level of dry needling but would like to improve their skill and confidence of their clinical practice. It is broken down into seven body part categories, followed by a techniques library that provides videos of handling techniques for each individual muscle. Each category provides written explanations, videos of assessment, education and treatment, followed by a PDF download for you and your clients.
Body Part Categories: (assessment, education, treatment)
Full length videos of assessment and treatment demonstrating what muscles are commonly treated together as tug-of-war pulls around major joints.
Global Posture & Stiffness
Low Back Pain
Hip, Groin & Knee Pain
Shoulder, Jaw & Neck Pain
Mid-Back, Rib & Chest Pain
Elbow, Arm & Hand Pain
Ankle & Foot Pain
Techniques Library:
24 Edited videos focussing on handling techniques for the most commonly treated individual muscles.
Deep Hip Rotators: Glute Med, Glute Min, Piriformis, TFL
Latissimus Dorsi
Upper Trapezius
Pec Major & Minor
Lumbar Spine Multifidus
Iliocostalis, Longisimus & Quadratus Lumborum
Adductors
Thoracic Multifidus
Cervical Multifidus (C5-7)
SCM
Biceps & Triceps
Deltoids
IT Band
Quadriceps
Calves: Gastrocs, Soleus, Tibilias Anterior, Peroneals
Hamstrings
Rotator Cuff: supraspinatus, infraspinatus
Levator Scap & Rhomboids
Forearms
Feet
Hands
TMJ: massiter, temporalis, pterygoid
PDF Handouts & Cheat Sheets
You will be able to download a PDF client education handout from WhyThingsHurt for your clients after their first treatment as well as a one page summary of each of the seven categories above to help you remember the common muscle pairings to treat together.
Stories & Resources
This course is built to compliment the stories and resources available in the book and website Why Things Hurt: Life Lessons from an Injury Prone Physical Therapist. You will find free exercise, posture and explanatory videos on the WhyThingsHurt blog that you can use in conjunction with the clinical reasoning and techniques provided on this course. The intention is to follow this course up with future courses on both manual therapy and corrective postural exercises.
Who is Brent Stevenson?
Brent Stevenson is a physiotherapist based in Vancouver, Canada, the co-owner of Envision Physiotherapy and the author of the book and website Why Things Hurt. He has extensive post-graduate training in dry needling, manual therapy and movement retraining.
He learned IMS directly from Dr Chan Gunn near the end of his career at the Institute for the Study and Treatment of Pain in 2008 and has since mentored many physiotherapists to help improve their dry needling skills. Brent has found that many clinicians are being certified to use dry needling in their practice but aren't coming away from their courses with great resources and/or don't have the opportunity for any mentorship.
Learning IMS can be a paradigm shift for most physiotherapists or physicians and can find it challenging to integrate it into their practice. Clinicians can get focussed on learning how to perform a specific point and miss out on how to look at the big picture. With this course, Brent demonstrates both how to perform the techniques safely and talks about how to use them all together clinically in order to help establish a video-based mentorship resource online.
Clinically Brent integrates IMS dry needling with osteopathic manual therapy, postural retraining and empathetic education with his clients. He has written stories and filmed exercise videos to help support both healthcare professionals and the general public on his website and books.
Education:
· Master of Science in Physical Therapy, McMaster University
· Bachelor of Human Kinetics, University of British Columbia
· Diploma of Chan Gunn IMS, Institute of the Study & Treatment of Pain
· 12 courses in Visceral & Neural Manipulation, Barral Institute
· Integrated System's Model, Diane Lee's series of courses
· 12+ courses in orthopedic manual therapy, Canadian levels system
· Movement Impairment Syndrome Courses, Shirley Sahrman
· Mobilization with Movement, Mulligan Concept
· Trained Golf Expert, Body Balance for Performance
Who this course is for:
Physiotherapists starting to integrate dry needling into their practice looking for direction and mentorship
Physicians treating patients with myofascial pain
Acupuncturists looking to expand their approach and skills in treating myofascial pain