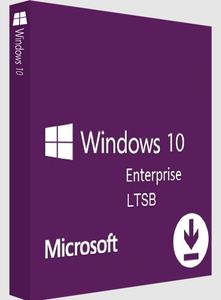 Windows 10 Enterprise LTSC 21H2 v10.0.19044.1288 (x86/x64) November MSDN 2021 | 3.21/4.56 Gb
Officially, LTSC(LTSB) is a specialized edition of Windows 10 Enterprise that promises the longest intervals between feature upgrades of any version of the operating system.
Where other Windows 10 servicing models push feature upgrades to customers every six months,(LTSC) LTSB does so only every two or three years. That means fewer changes during a set timeline, a less-involved upgrade effort, and fewer disruptions as well as fewer possibilities for applications breaking because of a modification of the OS.
Windows Server Long-Term Servicing Channel (LTSC):
The Long-term Servicing Channel is the release model you're already familiar with (currently called the "Long-term Servicing Branch") where a new major version of Windows Server is released every 2-3 years. Users are entitled to 5 years of mainstream support, 5 years of extended support, and optionally 6 more years with Premium Assurance. This channel is appropriate for systems that require a longer servicing option and functional stability.
Windows 10, version 1809 makes it easier to deploy updates, stay current, and better protect your data and devices end to end. Quickly deploy corporate images to new or existing devices. Manage corporate-owned and user-owned devices in the cloud, on premises, or using a combination of both.
Edition's Included:
Windows 10 LTSC / N x86/x64
Language:
English
Checksum information
Name en-us_windows_10_enterprise_ltsc_2021_x64_dvd_d289cf96
Size:4,56 GB (4.899.461.120 bytes)
CRC32:3F8093E5
CRC64:1ECF199090188D7E
SHA256:D6C7ECA8741948EB91638717B3D927C3F122A803545A2E05FE412ABCADDDB8FE
SHA1:0B8476EFF31F957590ADE6FE671F16161037D3F6
BLAKE2sp:E37056102AD2D7244FDEE8E3D82F0336595B70B44236600417F79ACFB7B3CACB
-------
Checksum information
---------------------------
Name en-us_windows_10_enterprise_ltsc_2021_x64_dvd_d289cf96
Size:3,21 GB (3.452.227.584 bytes)
CRC-32:30650cb1
SHA-1:3f7f38802043aa55ebe930655ee35be876213e4d
SHA-256:3276d60fa27f513b411224cd474278a9abe406159ba47776747862c7080292bc
SHA-512:438e6c9b2d074d5270b263e9aeb662387d2bdc4a020607d77fa1697a134fdd186a752af5a93d587d560fde02d26450725e25b4c3d8b80187914528b3c6062bbd
System Requirements:
Processor: 1 gigahertz (GHz) or faster.
RAM: 1 gigabyte (GB).
Free space on hard disk: 16 gigabytes (GB).
Graphics card: DirectX 9 graphics device or a newer version.
Additional requirements to use certain features.
To use touch you need a tablet or monitor that supports multitouch.
To access the Windows store to download and run apps, you need an active
Internet
connection and a screen resolution of at least 1024 x 768 pixels.
Notes:
1) Microsoft change the name of LTSB To LTSC for many reasons as you read before lets be clean this is not windows server...
2)as you see in screenshot is the same as LTSB 1511/1607 etc so people dont get confused...
3)This is original iso's microsoft released yesterday ( LTSB/LTSC Is always volume license)
4) in case you want activate it for now there is only one option via kms application's (generate hardware will not work yet till authors update it.

Buy Premium From My Links To Get Resumable Support,Max Speed & Support Me