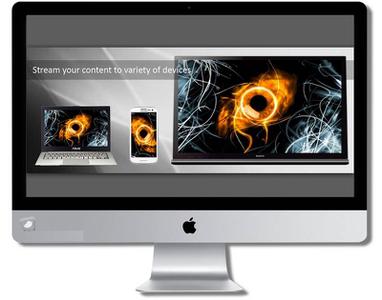 Serviio Pro 2.2 Multilingual | 126.7 Mb
Serviio is a media server. It allows you to stream your media files (music, video or images) to renderer devices (e.g. a TV set, Bluray player, games console or mobile phone) on your connected home network.
Features:
streams audio, video (SD & HD) and image files in their native format or transcoded in real-time
streams content from online sources, like RSS feeds, live audio/video streams, web page content
includes a plugin system to support streaming from non-trivial online sources
supports most known playlist formats
supports subtitles
automatically updates the media library when you add/update/remove a media file or a metadata file
supports RAW camera images
wide array of localized library browsing options
supports different editable renderer profiles
supports automatic renderer detection and per-IP profile assignment
extracts metadata of your media files the way you want it, incl. embedded metadata tags, local metadata files, online metadata sources (in preferred
language
), XBMC, Swisscenter, MyMovies
supports video thumbnails, CD covers, DVD posters, etc.
categorizes video files into movie and/or series and marks last viewed episodes of a series
available for Windows, Linux and Mac (with the possibility to run the server part on one platform and console on another)
Supported renderers
Samsung TVs and Bluray players (supports additional features, e.g. subtitles)
Sony TVs and Bluray players
Panasonic TVs
Playstation 3
Xbox 360
LG TVs and Bluray players
Toshiba TVs
Sharp TVs
Philips TVs
WDTV Live (supports subtitles)
Oppo BDP-83
MusicPal
DirecTV DVR
Pure Flow deices
Android phones, iOS phones
... and many
Supported media files
Audio: MP3( .mp3), MP2 (.mp2), Windows Media Audio (.wma), AAC (.m4a), OGG (.ogg, .oga), FLAC (.flac), Wawpack (.wv), Musepack (.mpc), Monkey's Audio (.ape)
Video: MPEG-1 (.mpg, .mpeg), MPEG-2 PS (.mpg, .mpeg, vob, mod), MPEG-2 TS (.ts, .m2ts), MPEG-4 (.mp4, m4v, mov), AVI (.avi, .divx), Windows Media Video (.wmv, .asf), Matroska (.mkv), Flash (.flv, .f4v), DVR-MS (.dvr, .dvr-ms), WTV (.wtv), OGG (.ogv, .ogm), 3GP (.3gp), RealVideo (.rm, .rmvb)
Image: JPEG (.jpg, .jpeg), GIF (.gif), PNG (.png), RAW (.arw, .cr2, .crw, .dng, .raf, .raw,. rw2, .mrw, .nef, .nrw, .pef, .srf, .orf)
Playlist: PLS (.pls), M3U (.m3u, .m3u8), ASX (.asx, .wax., .wrx), WPL (.wpl)
Subtitles: SubRip (.srt, .txt), SSA/ASS (.ssa, .ass), MicroDVD (.sub, .txt), SAMI (.smi), VTT (.vtt), MOV open text
Operating System:
Windows 11, 10, 8 / 8.1, 7
Home Page -
http://www.serviio.org/

Buy Premium From My Links To Get Resumable Support,Max Speed & Support Me