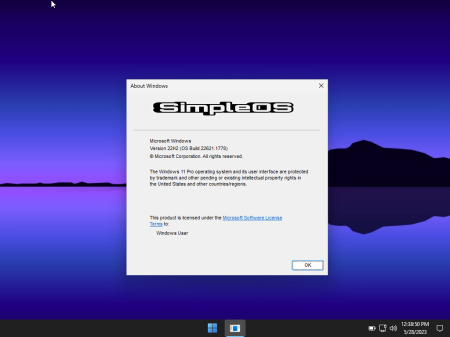 Windows x64 | English US | File Size: 2.61 GB
SimpleOS represents the power of simplicity and minimalism. In a world where technology is constantly advancing and becoming more complex, SimpleOS serves as a rder that somes the best solution is the most straightforward one.
By stripping away all unnecessary features and focusing on the essentials, SimpleOS provides users with clean and efficient platform that allows them to focus on their goals without distractions. It inspires us to simplify our lives, streamline our work, and focus on what truly matters. With SimpleOS, we can achieve more with less and embrace the power of simplicity.
General Information
OS build : 22621.1778
Edition : SimpleOS 11
Version : 22H2
Arch : x64amd
Lang : en-US
Author: Phrankie11
Compression: ESD
ISO Size: 2.61 GB
System Requirements
Operating System: Windows XP/Vista/7/8/8.1/10
RAM: 2GB or Higher
Hard Disk: Atleast 6gb or Higher
Processor: 2-4 gigahertz (GHz) or faster with 2 cores or more cores on a compatible 64-bit processor
Installation: Ventoy & Rufus
Build Notes
Removed In Full Featured And Updatable Build: All UWP Apps except Defender, Edge, OneDrive
Removed in SuperLite Build: All UWP Apps with optional defender, edge, onedrive, windows update
backup and restore, diagnostic, troubleshooting and all removable fonts but still font supported
Disabled: Hibernation, Reserve Storage etc..
Common Tweaks Applied: Updates paused until 12-30-2099, Full Featured And Updatable Build, Bypassed Force Microsoft Account Creation, Bypassed TPM, RAM, Secure Boot, Storage, CPU Check, Optional Defender and etc..
Notes: Net Framework 3.5 is not installed as default but you can install it manually in setting, apps, optional features
Whats news:HomePage:
https://www.microsoft.com/
DOWNLOADrapidgatorddownload