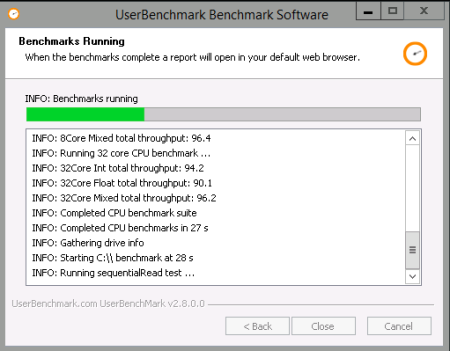 File Size : 5.6 Mb
UserBenchmark enables you to quickly benchmark the components in your PC and compare them to the benchmarks submitted by thousands of other users.
Unlike many other benchmarking tools, UserBenchmark produces a report that is aimed at the average PC user instead of technical geeks. The benchmark covers the most important aspects of your system, including Hard drives, USB drives, CPU and Graphics.The benchmark report is loaded in your browser from where you can view and copy the details and also find recommendations for hardware improvements.
and run UserBenchMark (UBM)
Checks include: 4k Align, NCQ, TRIM, SATA, USB & S.M.A.R.T.
Drive benchmarks include: read, write and mixed IO.
CPU benchmarks include: integer, floating and string.
GPU benchmarks include: DX9 and DX10 3D performance.
Reports are generated and presented on userbenchmark.com
Identify the strongest components in your PC
See speed test results from other users
Compare your components to the highest voted in class
Share your opinion by voting
Updates: official site does not provide any info about changes in this version
DOWNLOADuploadgigrapidgatornitroflare